Some basic Thai Massage Info
The origin of Thai Massage
Believed to be over 2000 years old, the Ancient Art of Thai Massage was developed as a therapeutic method of healing the sick and injured.
The origins of this practice date to the early movement of Buddhism in Asia. Traditional Thai Massage is an ancient art with roots in Ayurvedic and Chinese Medicine. It is thought to have originated from a medical practitioner, Dr. Jivaka, who traveled with the Buddha to India. The techniques then found their way to Thailand where they have been practiced for over 2,500 years. Traditional Thai Massage, known as Nuad Boran, is rooted in the Buddist philosophy of Metta, the art of giving with loving touch and kindness. Here is a great link (pdf download) to the Thai Healing Alliance website and description of the "Origin and Evolution of Traditional Thai Massage by Bob Haddad.
How is Thai Massage Unique?
It is different from what most in the West regard as massage because it is administered on a comfortable mat on the floor. Both the recipient and practitioner wear loose clothing. The body is compressed, pulled, stretched and rocked in order to clear energy blockages and relieve tension. The practitioner uses thumbs, palms, forearms, elbows, knees and feet to open joints, stretch muscles and tendons, tone internal organs and balance energy. Sessions usually last between 1.5 and 3 hours and can be relaxing, energizing or therapeutic.
Explain a little more about what energy-based means?
The Thai massage practitioner uses their body weight while the client uses his or her breath control to move deeper into and out of each posture. Working together, the therapist and the client can obtain a more thorough massage than when working alone. Working within a safe range of motion the practitioner alternates between gentle and deeper techniques to help the client release tension and open up the flow of energy and vitality. Unique to this practice are the direct and clear intentions of the practitioner to affect the physiology and energetics of the body and mind of the recipient. Explained in another way, Thai Massage has a way of opening and aligning one's chakras enhancing the energy flow in the body.
The practice of Nuad Boran is rooted in the Buddhist philosophy of Metta, loving touch and kindness.
IS THAI MASSAGE RIGHT FOR ME?
You are a perfect client for a Traditional Thai Massage if you find one or more of these describe you.
Love to relax and nurture yourself.
Have a positive attitude towards healing your body.
Are open to receiving a full body treatment to relax, energize and align your body's systems.
Enjoy deep acupressure and supported stretching that has similar benefits to a sports or deep tissue massage.
Look for personal, spiritual and/or emotional growth and embrace positive change, happiness and prosperity.
Have an interest in expanding your understanding of energy work as it relates to Traditional Thai Massage.
Are committed to working through patterns that do not serve you, i.e. postural, breath, tightness, stress etc.
Have an interest in deeper body awareness and have a willingness to fully receive bodywork and integrate the benefits into your body.
Have an interest in breath work (yoga) and stillness of the mind (meditation).
Trust us to create a positive and safe environment for healing on all levels.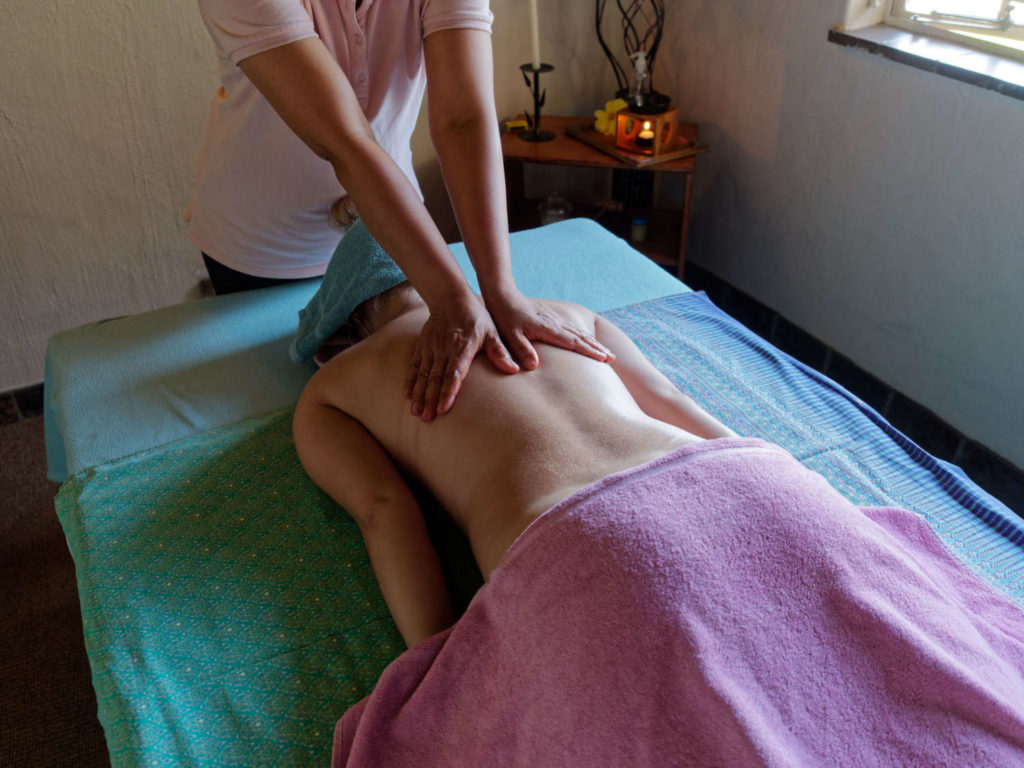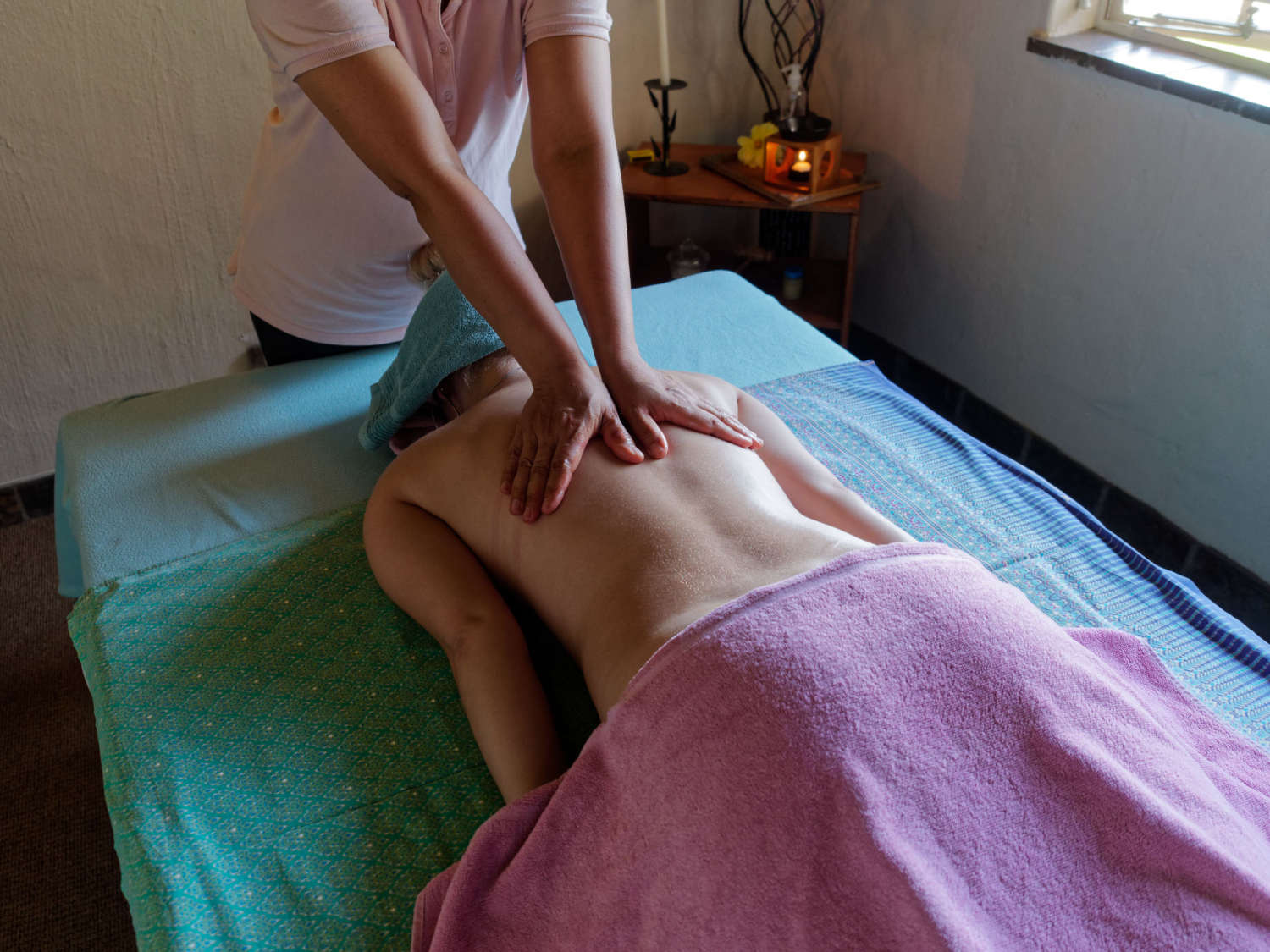 "Anyone can benefit from Thai Massage, those of any age and size including those with high levels of stress, physical injury or those experiencing emotional and physical blockages."
PHYSICAL BENEFITS OF THAI MASSAGE
Help detoxification of the body and boost immune system
Increase blood circulation, lower blood pressure
Good for muscle relaxation, increase flexibility in your muscles, increase mobility
Improve breathing
Improves posture, balance, corrects body alignments and dissolves energy blockages
Improves athletic performance
Help arthritis and back pain
Help tone the body, strengthen joints and fight diseases, including chronic joint problems
Prevents illnesses and alleviates degenerative diseases
Slows the aging process
MENTAL BENEFITS OF THAI MASSAGE
Improve your outlook towards life; builds an emotional balance
Help with concentration and creativity/ Mind and body concentration
Clear and calm your mind
Help you gain mental clarity
PSYCHOLOGICAL EFFECTS OF THAI MASSAGE
Reduce and relieve stress and anxiety
Help people boost their inner energy levels
Develop discipline and self-control
Achieve better health, increases health and vitality
Raise the energy level and stamina
Build internal power (and creates a natural confidence)