Authentic Traditional Thai Bodywork Treatments
Quoimai Thai offers a range of authentic traditional Thai bodywork treatments, aimed at promoting the concept of "prevention is better than cure". In order to restore the health and vitality to your body, mind and spirit.

We would like to promote the experience of this ancient oriental natural healing method, and make it possible for you to incorporate it into your normal daily routine, and not think of it as only an extravagance for special occasions.
Our Banking Details
Bank: FNB
Cheque Acc.
Acc. Name: Quoimai
Acc. No.: 62229055779
Branch Code: 250655
Ref: Contact name.
Proof of payment to:
quoimaithai@gmail.com
Payment Options
Cash on arrival at reception, or E F T.
Visa and MasterCard also accepted.
Gift Vouchers also available
In amounts R100 or more.
Gift vouchers purchased will be sent via email (pdf).
(not to be collected in store).
Please note that all our rooms and massage beds are heated during
the winter months
( Even during load shedding )
Please contact us on: 062 170 0287
to make your booking.
Massage Treatments
Thai massage is an ancient healing art and a very unique form of body therapy developed by people who used these massage techniques not only as a therapeutic method of treating and healing illness, but also as a tool to maintain a healthy lifestyle and a deep sense of physical and mental well-being.
Starting at the feet and progressing to the head, these massage techniques involve the deep massaging of muscle tissues as well as the stretching and loosening of these muscle groups and their respective joints using a sequence of gentle flowing movements.
This type of body work is performed on the floor or on a firm massage bed, creating a solid base for any skilled Thai Massage Therapist to maximize the pressures applied to target body areas.
This unique form of massage influences not only the body aspect, but the energies of the body as well, restoring the flow of energy throughout the body through the use of applied acupressure on the Sen Energy lines of the body.
It is this combination of solid ground work, deep tissue massage, stretching and energy restoration techniques that makes Thai Massage a truly deep, full-body treatment that anyone, young or old can enjoy and benefit from.
Traditional Thai Massage (no oil)
Traditional Thai Massage makes use of a combination of acupressure and stretching movements by using the therapist's fingers, thumbs, elbows, arm and feet to simulate the nerve medians of the body.
This process helps with alleviating back pain. Arthritis, headache and stress related conditions. More info.
Pricing:
60 min R340 single couples R680
90 min R510 single couples R1020
120 min R680 single couples R1360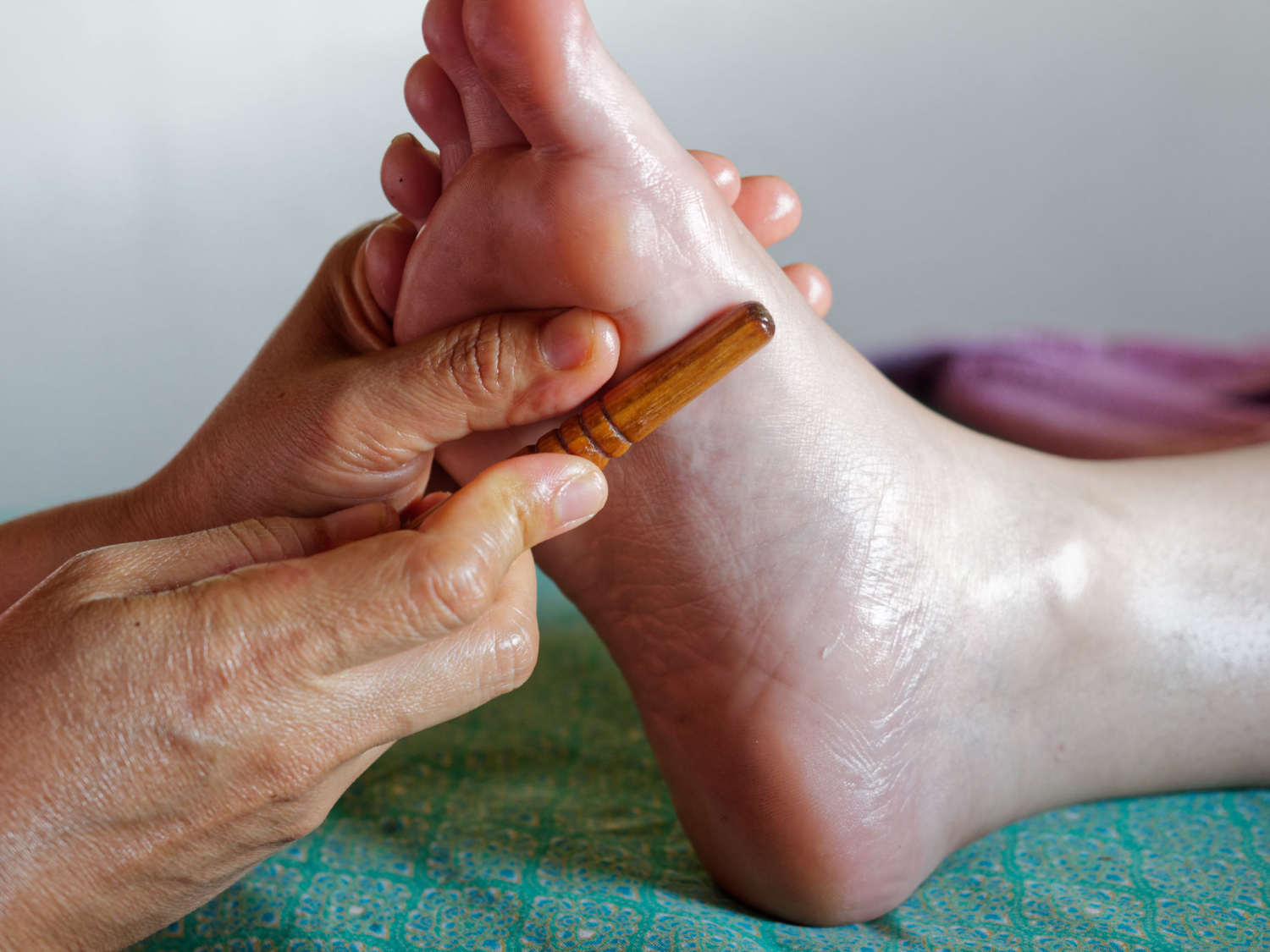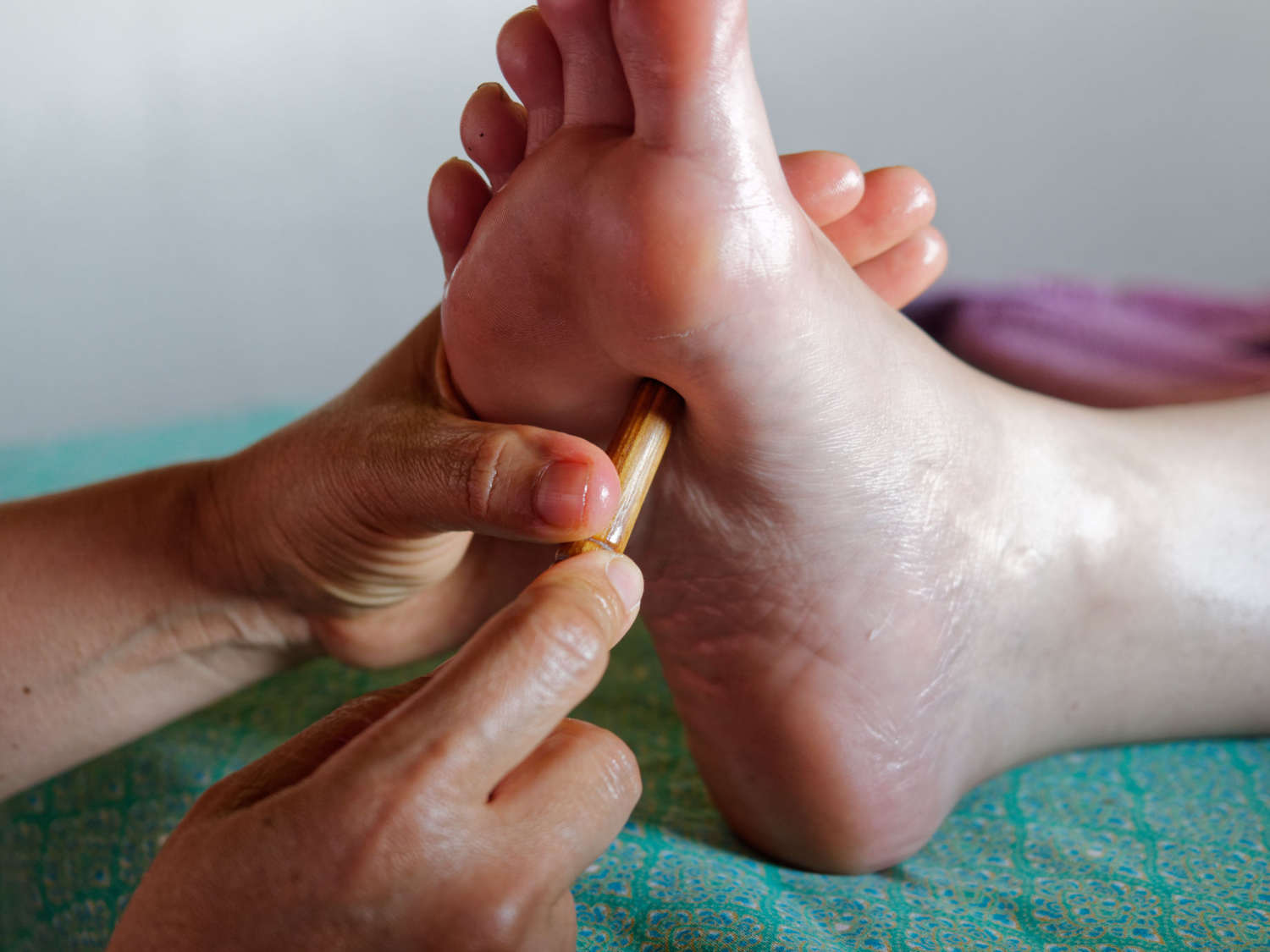 Thai Foot Massage (Reflexology)
Quoimai Thai foot massage-reflexology
This ancient treatment is based on the principles of Reflexology, liking reflex zones on the feet to organs and systems in the body. The application of pressure to these reflex points restores the flow of energy throughout the body boosting the immune system, blood circulation and digestive functions. More info.
Pricing:
30 min R220 single couples R440
60 min R320 single couples R640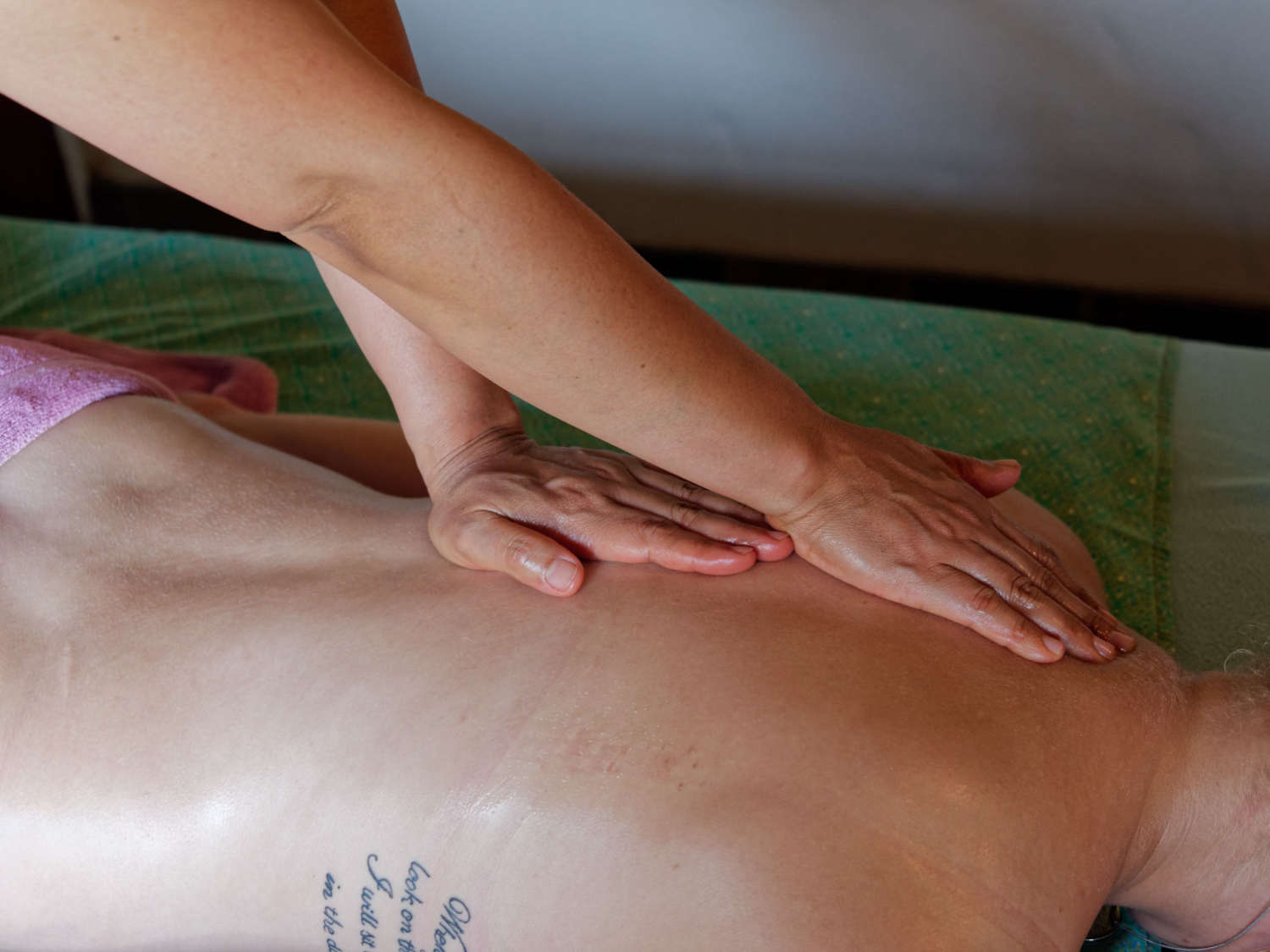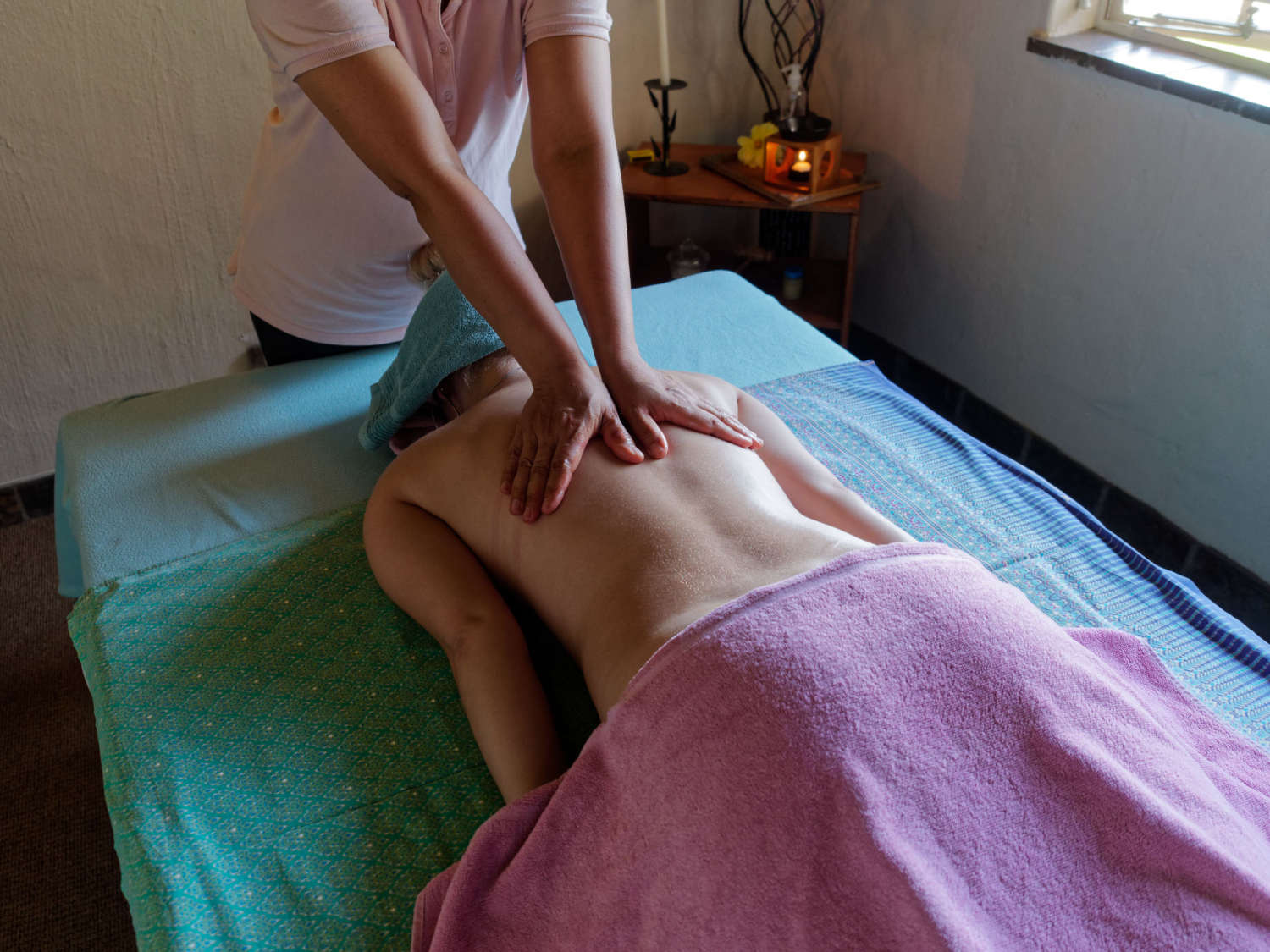 Quoimai Thai Aromatherapy Massage
Carefully blended rare essential oils combines soothing sent with the healing power of soft touch. The oils are highly penetrative leaving you calm and wonderfully relaxed. It also improves your metabolism and relieves aches, pain and insomnia. More info.
Pricing:
60 min R340 single couples R680
90 min R510 single couples R1020
120 min R680 single couples R1360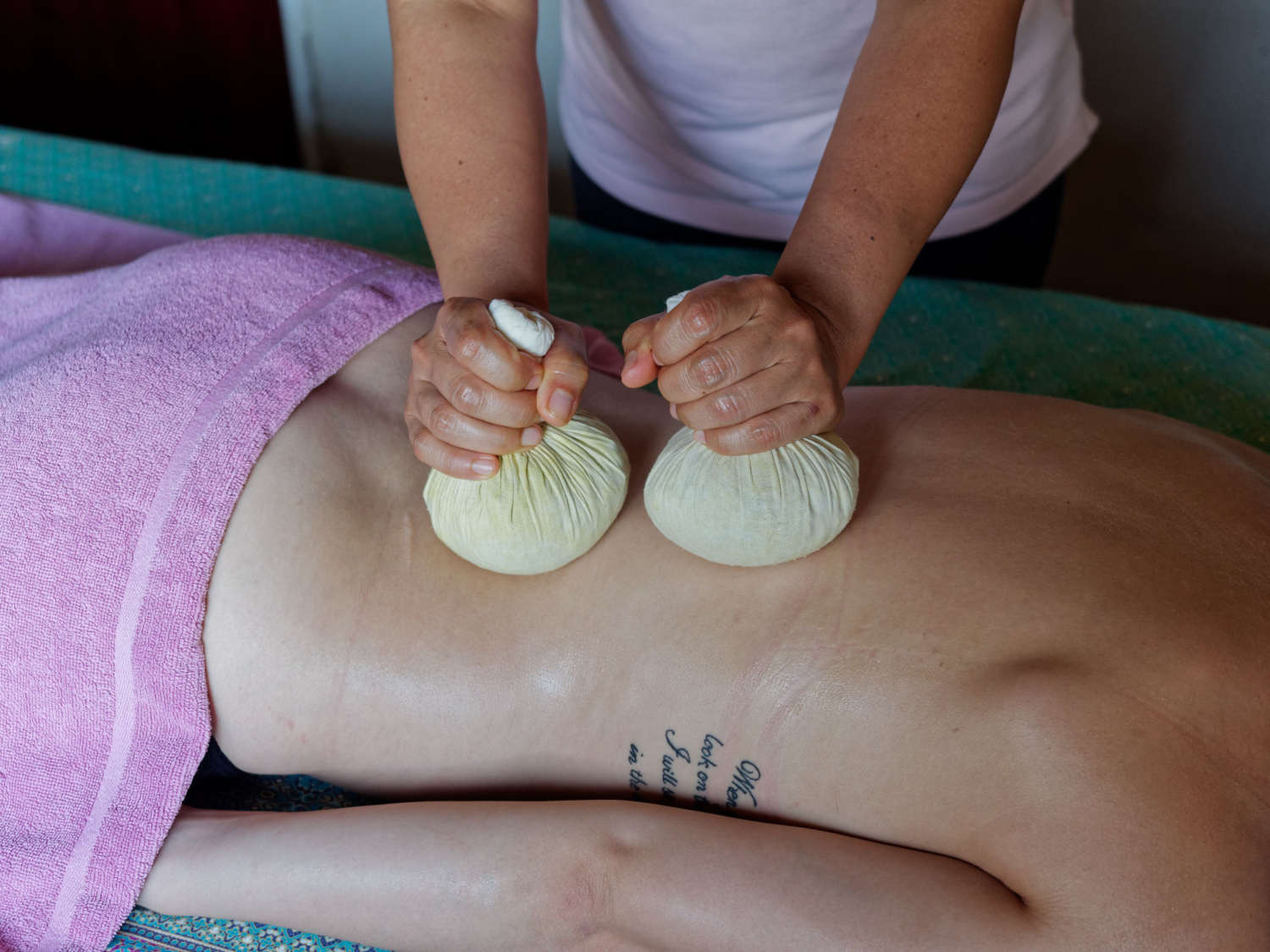 Quoimai Thai hot herbal massage
The unique combination of a traditional massage followed by a herbal compress using ancient organic Thai Herbs, makes this treatment the perfect tool for relaxation and self-healing stimulated by the warmth and scent of the herbs. More info.
Pricing:
60 min R380 single couples R760
90 min R570 single couples R1140
120 min R760 single couples R1520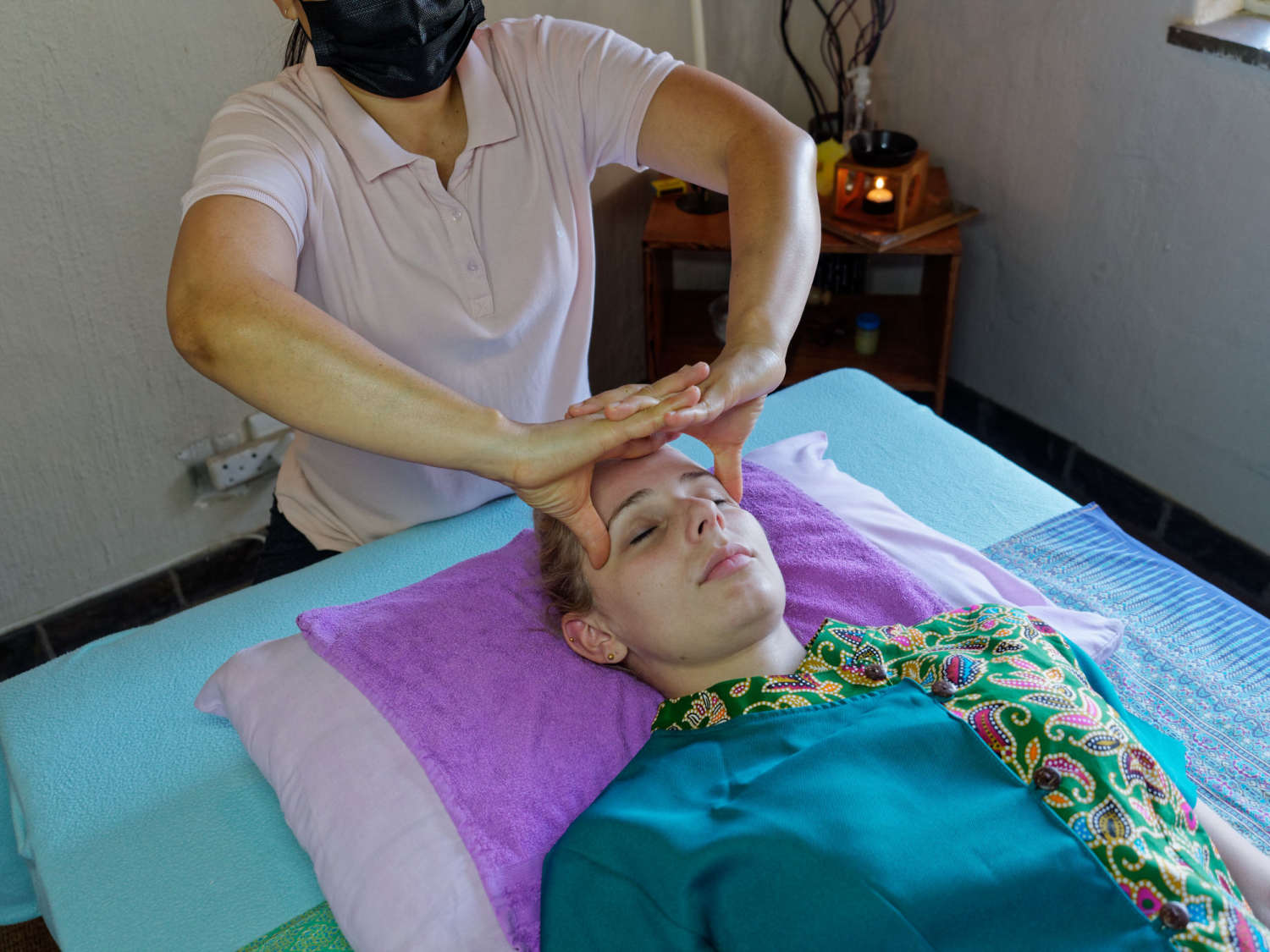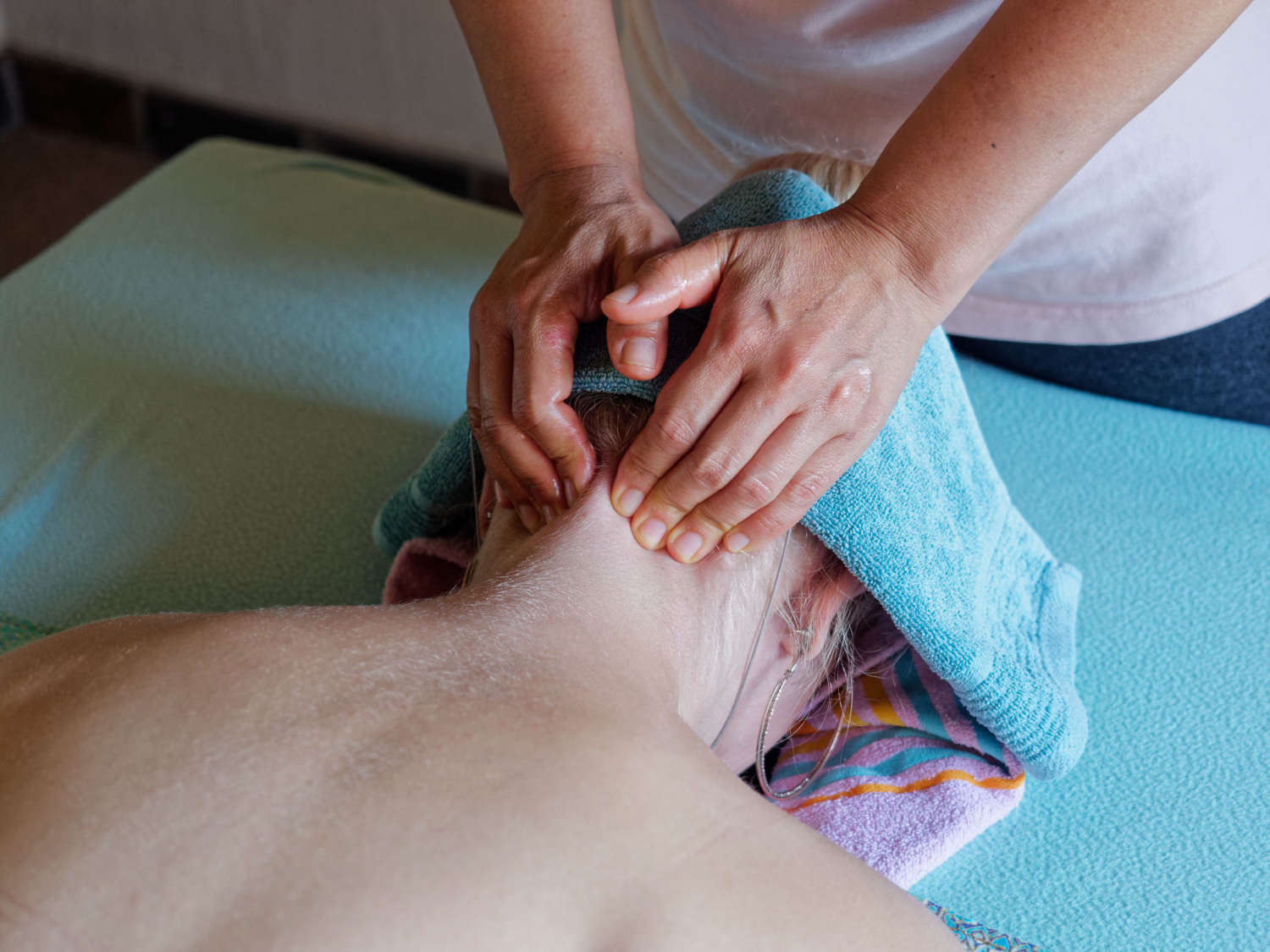 Quoimai Thai head neck and shoulder massage
Skillful use of thumbs and fingers manipulating the pressure points on the head / scalp, face, neck and shoulders stimulates the lymphatic system and encourages the release of toxins from the body. This relieves tension and sinus headaches as well as migraines. More info.
Pricing:
30 min R240 single couples R480
60 min R320 single couples R640
90 min R480 single couples R960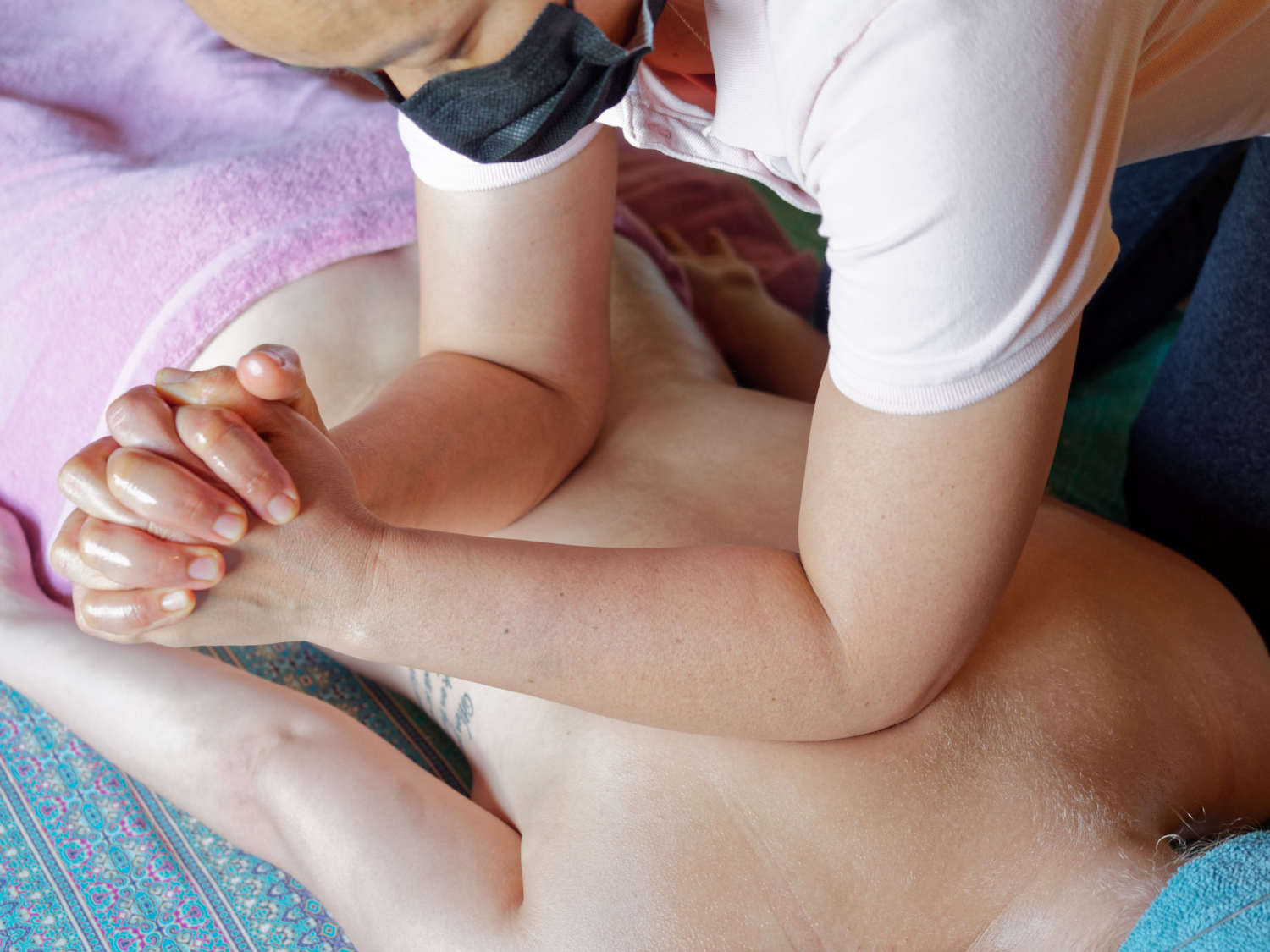 Quoimai Thai deep tissue massage
A strong technique that really works on the muscle tissue. Massage movements are similar to those used in the Swedish Massage and include stroking, kneading, compression and friction. More info.
Pricing:
60 min R380 single couples R760
90 min R570 single couples R1140
120 min R760 single couples R1520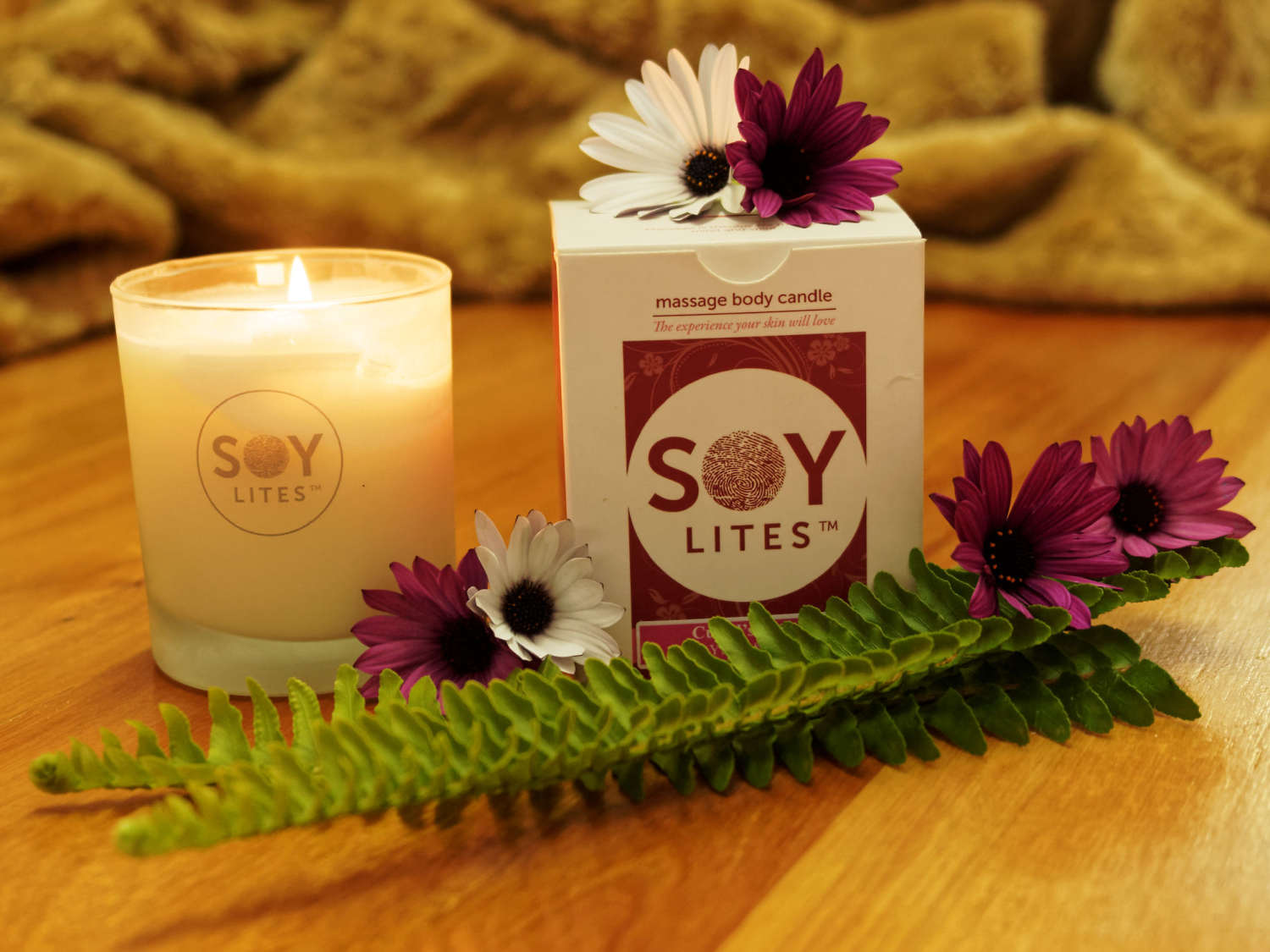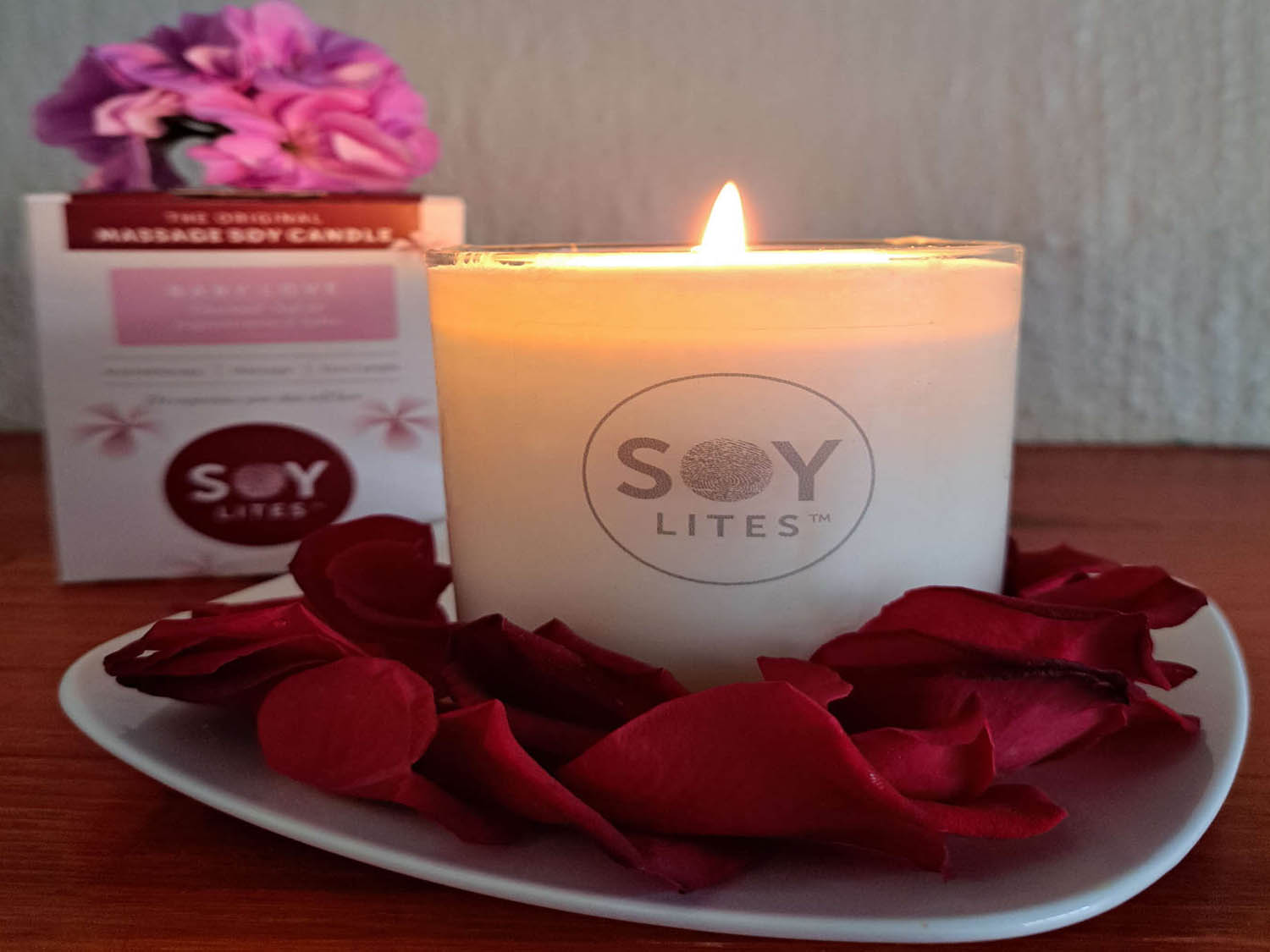 Luxurious Soy Candle Massage
Immerse yourself in the radiant glow of Quoimai Thai Candle Massage. The lightly scented wax melts into an exquisite pool of luxurious massage oil. The silky formula is specially designed to nourish and moisturize your skin with natural vitamin E, while the subtle fragrance excites your senses for the pleasures that lie ahead. With seductive scents to choose from, there is sure to be a Flickering Touch Massage Candle to suit your every mood.
Pricing:
60 min R480 single couples R960
90 min R720 single couples R1440
120 min R960 single couples R1920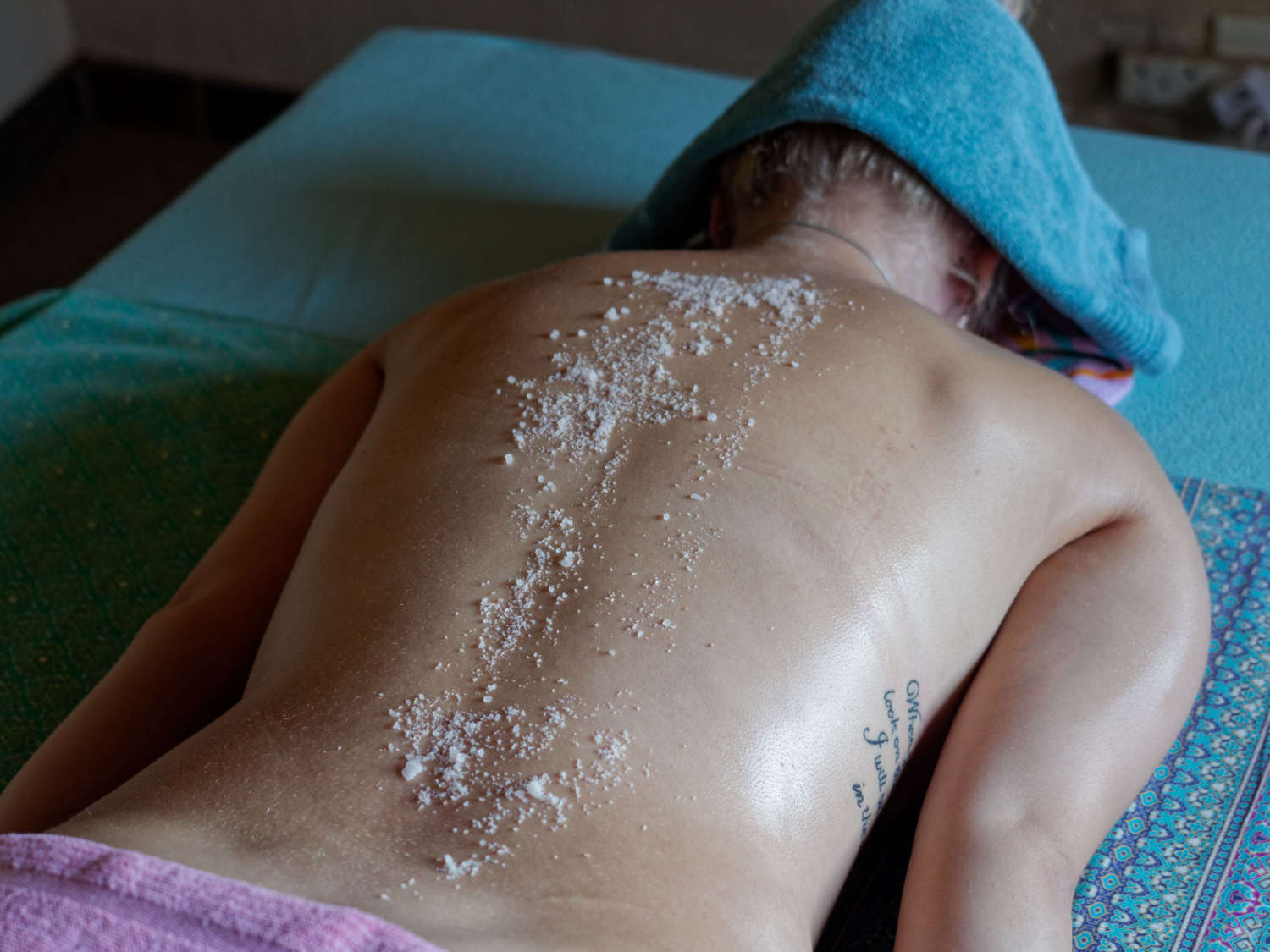 Quoimai Thai Body Scrub
Rub away dead skin cells that leaves your skin dull with our Sea Salt Scrub. Through exfoliation and polishing, this treatment leaves your skin clean, refreshed and revitalized. The fine salt grains really cleanse every pore and allows your skin to breathe easier. Then Shea Butter Cream is an intense moisturizer that can be applied onto the entire body. These creams are specially formulated to maximize skin hydration. For this reason, body butters are likely to be used during dry times during the year or when the skin suffers from severe lack of moisture. The ingredients contained in body butter often offer the skin both hydration and protection. More info.
Body Scrub 30 min
Shea Butter Cream Rub 30 min
Pricing:
R400 single couples R800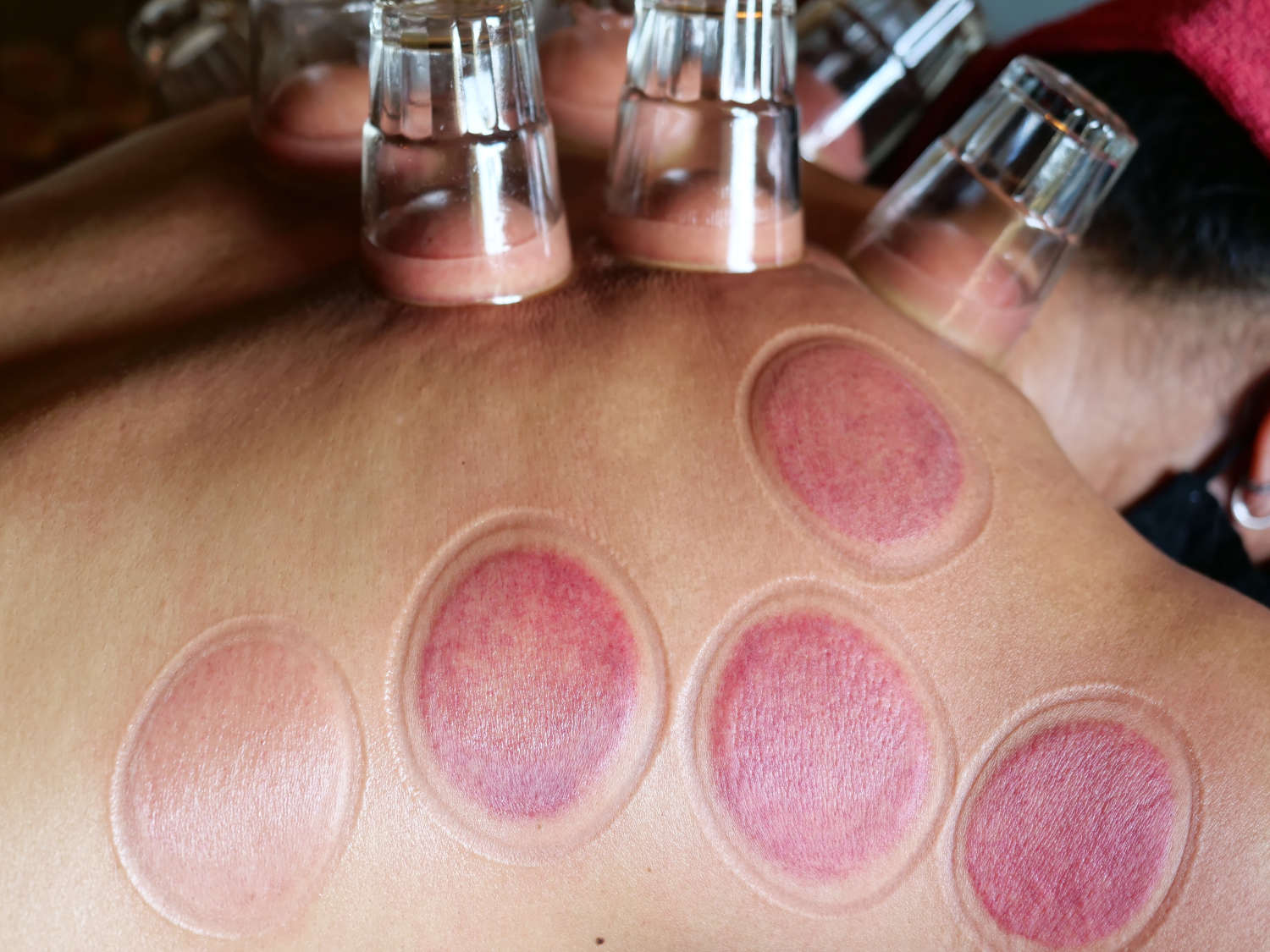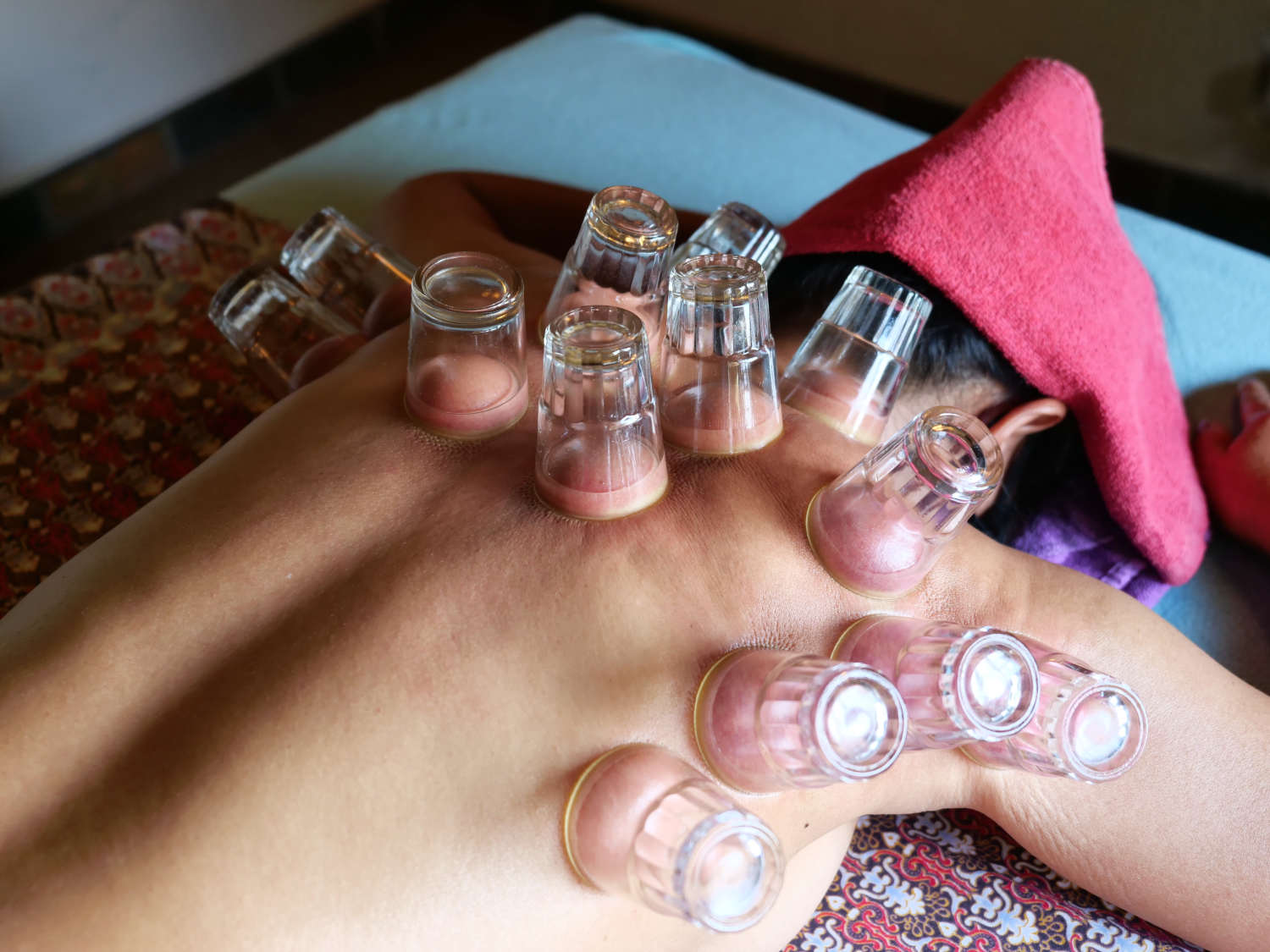 Quoimai Thai Cupping
R50 extra with any treatment.
Cupping is a bodywork therapy widely known and used in Thailand, and often associated as part of Traditional Chinese Medicine.
What is called Thai Cupping is in fact the same as Chinese Cupping (or any other Asian Cupping therapy) and it's based on the use of small (glass) cups to create suction on the skin. In the past, traditionally, hollow bamboo cups were used instead of glass cups.
If at all applied in Thailand, by Thais, it's very often only an added part or extra service and technique during a regular Thai Massage session.
The cupping technique uses heat or air pressure to create the suction, pulling cellular wastes and toxins from deeper layers in the body towards the surface.
Benefits of cupping are said to include draining of excess fluids and toxins, stimulating the skin and nervous system, improving blood flow to stagnant or tight muscles and skin, improving lymphatic drainage, loosening up adhesions, connective tissue and knots in soft tissue.
Include Hot Oil with any massage R30 extra.
Include Cupping with any massage R50 extra.
Quoimai Thai Facial
R220 (single person). Duration, approximately 30 minutes.
Packages
A selection of treatments which we think complement each other made up into "Packages".
You can of course make up your own "package" by selecting a combination of your preferred treatments.
Include cupping with any package R50 extra
Include hot oil with any package R30 extra
Thai Traditional Massage
&
Thai Aromatherapy Massage
Pricing:
120 min R660 single
couples R1320
150 min R990 single
couples R1980
Thai Traditional Massage
&
Thai Foot Massage (Reflexology)
Pricing:
120 min R660 single
couples R1320
150 min R990 single
couples R1980
Thai Head Neck & Shoulder Massage
&
Thai Foot massage (Reflexology)
Pricing:
60 min R340 single
couples R680
90 min R510 single couples R1020
120 min R680 single
couples R1360
Thai Aromatherapy Massage
&
Thai Foot Massage (Reflexology)
Pricing:
60 min R360 single
couples R720
90 min R540 single
couples R1080
120 min R720 single
couples R1440
Quoimai Thai Beneficial Well Being Packages
The Chaba
Thai Deep Tissue Massage 60 min
Thai Aromatherapy Massage 60 min
Thai Head and Shoulder Massage 30 min
Duration, 2.5 Hrs
Pricing:
R910 single – R1820 couples
The Jasmine
Thai Hot Herbal Massage 60 min
Thai Aromatherapy Massage 60 min
Thai Head and Shoulder Massage 30 min
Duration, 2.5 Hrs
Pricing:
R930 single – R1860 couples
The Quoimai
Thai Traditional Massage 60 min
Thai Aromatherapy Massage 60 min
Thai Foot Massage 30 min
Duration, 2.5 Hrs
Pricing:
R850 single – R1700 couples
Our location and directions
113 Tamboti Rd
Blue Hills
Midrand
Gauteng
From the Kyalami main road (R55).
Coming from Kyalami, proceed straight through the Crowthorne intersection, at the stop sign, turn right off the Kyalami main road (R55) into Tamboti Rd. Drive about 300m, and see our sign and gate on your left.
or
From New Road.
Turn right off New road into 7th road, proceed about 1 km (it becomes Garden Rd.) and then turn left into Tamboti Rd, drive down to the bottom, over the T junction (Acacia Road), you will see our sign at the second gate on your right.
Back to top