Traditional Thai massage is an ancient healing art and a very unique form of body therapy developed by people who used these massage techniques not only as a therapeutic method of treating and healing illness, but also as a tool to maintain a healthy lifestyle and a deep sense of physical and mental well-being.
Starting at the feet and progressing to the head, these massage techniques involve the deep massaging of muscle tissues as well as the stretching and loosening of these muscle groups and their respective joints using a sequence of gentle flowing movements.
This type of body work is performed on the floor or on a firm massage bed, creating a solid base for any skilled Thai Massage Therapist to maximize the pressures applied to target body areas.
This unique form of massage influences not only the body aspect, but the energies of the body as well, restoring the flow of energy throughout the body through the use of applied acupressure on the Sen Energy lines of the body.
It is this combination of solid ground work, deep tissue massage, stretching and energy restoration techniques that makes Traditional Thai Massage a truly deep, full-body treatment that anyone, young or old can enjoy and benefit from.
Traditional Thai Massage ( No Oil)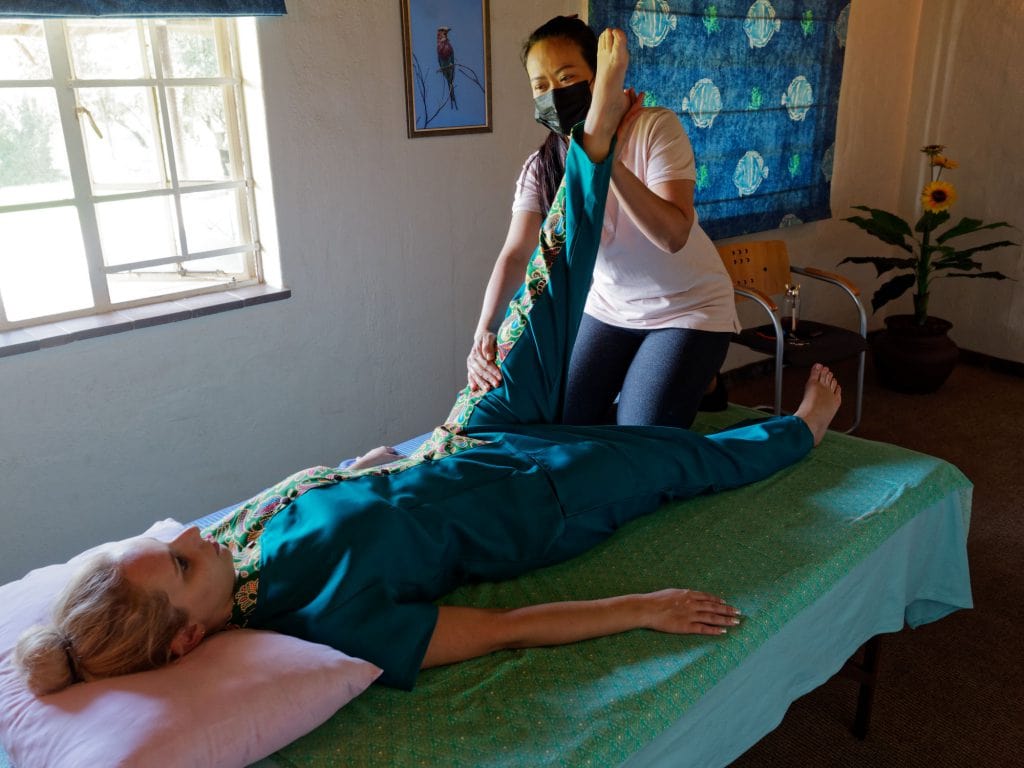 Traditional Thai Massage makes use of a combination of acupressure and stretching movements by using the therapist's fingers, thumbs, elbows, arm and feet to simulate the nerve medians of the body.
This process helps with alleviating back pain. Arthritis, headache and stress related conditions. More info.
Pricing:
60 min R340 single couples R680
90 min R510 single couples R1020
120 min R680 single couples R1360
Thai Foot Massage (Reflexology)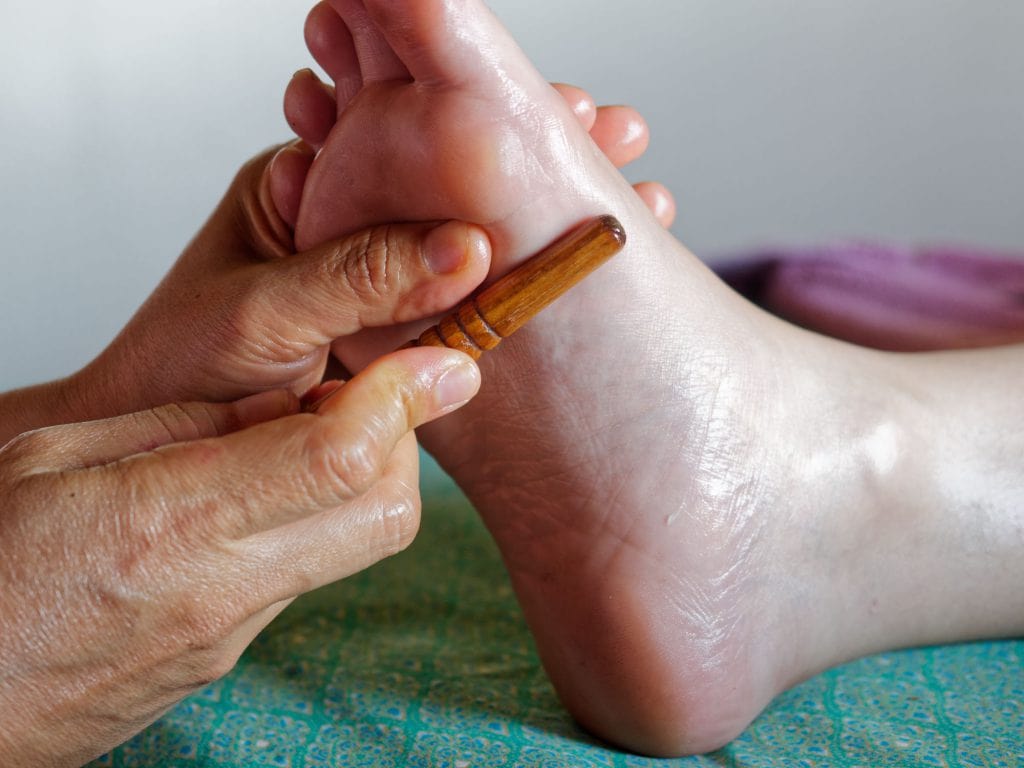 This ancient treatment is based on the principles of Reflexology, liking reflex zones on the feet to organs and systems in the body. The application of pressure to these reflex points restores the flow of energy throughout the body boosting the immune system, blood circulation and digestive functions. More info.
Pricing:
30 min R220 single couples R440
60 min R320 single couples R640
Thai Aromatherapy (Oil) Massage
Carefully blended rare essential oils combines soothing sent with the healing power of soft touch. The oils are highly penetrative leaving you calm and wonderfully relaxed. It also improves your metabolism and relieves aches, pain and insomnia. More info.

Pricing:
60 min R340 single couples R680
90 min R510 single couples R1020
120 min R680 single couples R1360
Thai Hot Herbal Compress Massage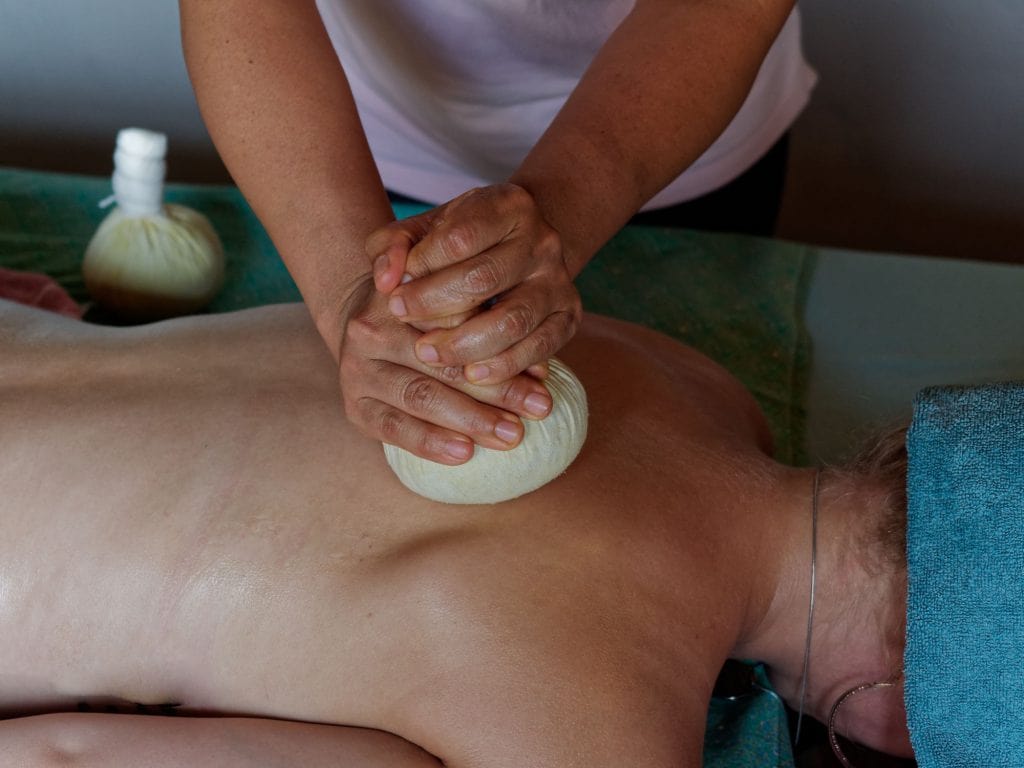 he unique combination of a traditional massage followed by a herbal compress using ancient organic Thai Herbs., makes this treatment the perfect tool for relaxation and self-healing stimulated by the warmth and scent of the herbs. More info.
Pricing:
60 min R380 single couples R760
90 min R570 single couples R1140
120 min R760 single couples R1520
Thai Head, Neck And Shoulder Massage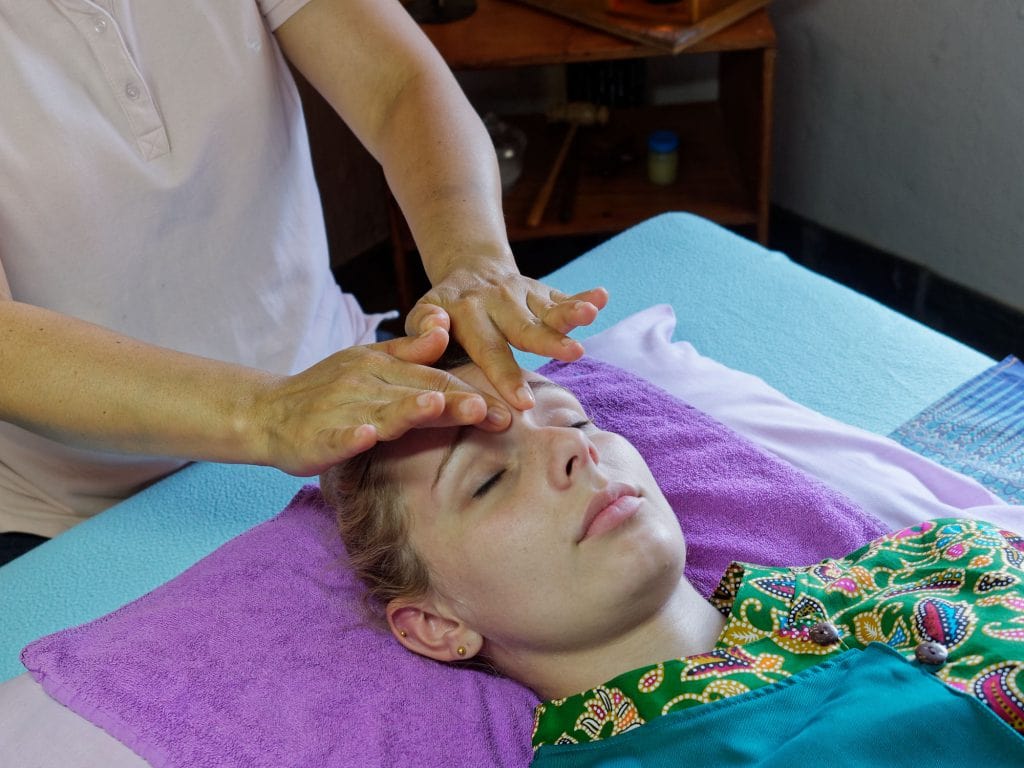 Skillful use of thumbs and fingers manipulating the pressure points on the head / scalp, face, neck and shoulders stimulates the lymphatic system and encourages the release of toxins from the body. This relieves tension and sinus headaches as well as migraines. More info.
Pricing:
30 min R240 single couples R480
60 min R320 single couples R640
90 min R480 single couples R960
Thai Deep Tissue / Sport Massage
A strong technique that really works on the muscle tissue. Massage movements are similar to those used in the Swedish Massage and include stroking, kneading, compression and friction. More info.
Pricing:
60 min R380 single couples R760
90 min R570 single couples R1140
120 min R760 single couples R1520
Thai Luxurious Soy Candle/Warm Oil Massage
Immerse yourself in the radiant glow of Quoimai Thai Candle Massage. The lightly scented wax melts into an exquisite pool of luxurious massage oil. The silky formula is specially designed to nourish and moisturize your skin with natural vitamin E, while the subtle fragrance excites your senses for the pleasures that lie ahead. With seductive scents to choose from, there is sure to be a Flickering Touch Massage Candle to suit your every mood.
Pricing:
60 min R480 single couples R960
90 min R720 single couples R1440
120 min R960 single couples R1920
Our Walnut Facial Scrub with its finely ground micro-beads of walnut husk and apricot extract polish away the natural build-up of dead skin cells and renew a bright and beautiful complexion. Your skin is left moisturized, invigorated and radiant! Not only are walnuts plentiful on the planet, they also help newer, healthier skin come to the surface.
Our signature hydrating Mask uses natural papaya enzyme technology to remove dull surface cells and impurities, increasing healthy circulation and dramatically improving tone and texture for a healthy and vibrant complexion. This mask not only exfoliates the skin, but stimulates renewed cell growth for the skin which looks and feels healthy. Its highly concentrated algae draws oxygen into the skin and antioxidants and minerals are added to assist in drawing out the toxins. Leaving your skin smoother, more hydrated and with a youthful glow.
Our Skin Rejuvenating Serum glides beautifully through the layers of the skin by combining the benefits of plant based stem cells Defensil which will protect the skins DNA while Matrixyl 3000 prevents wrinkle and age spots. Innovative ingredients like aqualance help to rehydrate the skins moisture levels to improve firmness and plumpness. The added benefit of renovage tightens the skin while reducing redness and uneven skin tone. Finally the ingredient kombuchka is a fermented black tea that will improve overall brightness and radiance.
Quoimai Thai Facial & Aromatherapy Massage R220 (single person). Duration, approximately 30 minutes.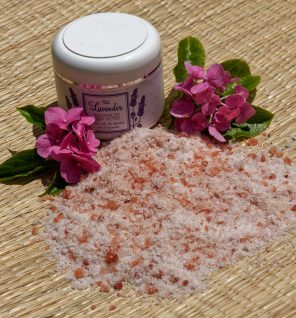 Rub away dead skin cells that leaves your skin dull with our Sea Salt Scrub. Through exfoliation and polishing, this treatment leaves your skin clean, refreshed and revitalized. The fine salt grains really cleanse every pore and allows your skin to breathe easier. Then Shea Butter Cream is an intense moisturizer that can be applied onto the entire body. These creams are specially formulated to maximize skin hydration. For this reason, body butters are likely to be used during dry times during the year or when the skin suffers from severe lack of moisture. The ingredients contained in body butter often offer the skin both hydration and protection. More 
Body Scrub 30 min
Shea Butter Cream Rub 30 min
Pricing:
R400 single   couples R800
THAI CUPPING: - R50 EXTRA WITH ANY MASSAGE
Cupping is a bodywork therapy widely known and used in Thailand, and often associated as part of Traditional Chinese Medicine.
What is called Thai Cupping is in fact the same as Chinese Cupping (or any other Asian Cupping therapy) and it's based on the use of small (glass) cups to create suction on the skin. In the past, traditionally, hollow bamboo cups were used instead of glass cups.
If at all applied in Thailand, by Thais, it's very often only an added part or extra service and technique during a regular Thai Massage session. 
The cupping technique uses heat or air pressure to create the suction, pulling cellular wastes and toxins from deeper layers in the body towards the surface.
Benefits of cupping are said to include draining of excess fluids and toxins, stimulating the skin and nervous system, improving blood flow to stagnant or tight muscles and skin, improving lymphatic drainage, loosening up adhesions, connective tissue and knots in soft tissue.